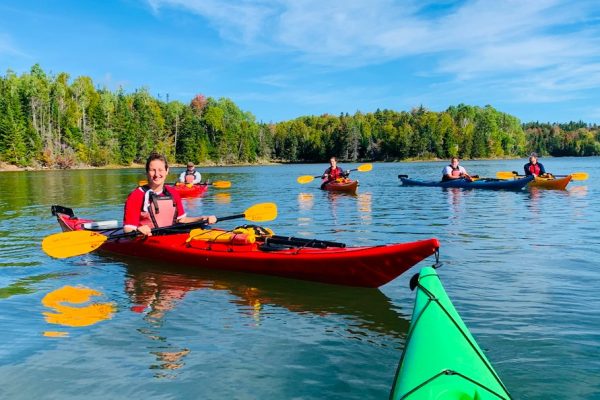 Leadership 12 Course Improves Teamwork, Creativity & Confidence
Learning knows no boundaries. It can occur anywhere, at any time, and is not restricted to four walls and a roof. This year, we've seen numerous examples of outdoor learning thanks to Nova Scotia's Back to School Plan, which encourages school activities to take place outside as much as possible due to COVID-19.
Even before the pandemic, the benefits of outdoor learning have been well documented. Studies have shown that outdoor learning promotes physical activity, fosters teamwork, develops a sense of self, increases confidence, and inspires creative thinking and problem-solving skills. These competencies are exactly the outcomes Kevin Holland and Francine Hopkins are seeing achieved by their students in the Leadership 12 course at Barrington Municipal High School.
"This class is an opportunity for students to take on a leadership role in the school while combining outdoor education and event organization," explains Holland who co-teaches the course with Hopkins. "It's a chance for them to explore different things they may not otherwise have a chance to try."
The terrific fall weather has already allowed the class to explore a variety of outdoor learning activities. They've been working on a biking and canoeing unit and have been spending many days on the Barrington River. Under the current COVID-19 restrictions, transportation for field trips is not permitted, however, because the Leadership 12 course incorporates biking into the coursework, the students are able to bike to their canoeing locations.
Holland and Hopkins say the biggest change they see in the students enrolled in this course, is their sense of teamwork. They believe this skill is enhanced because they are outside of the traditional classroom and working in a natural setting with real life challenges. 
"We've seen huge changes and improvements in self-esteem and a sense of accomplishment," says Hopkins. "The students often say, we can't do this or we can't do that. For example, 'we can't portage that canoe,' then there is a huge feeling of accomplishment once they've done it."
The course includes a mix of indoor learning as well. Students learn what makes a good leader, organizational skills, as well as event planning and management, and they are responsible for a variety of school-based events. There's also a volunteer component, each student completes 25 hours of volunteer community work. Students have volunteered at local food banks and have assisted with parade planning.
Holland and Hopkins say the lingering winter weather won't slow down their outdoor learning. In fact, they have a variety of winter activities planned and hope the weather will cooperate. "We hope to go curling, snowshoeing, winter trekking and hiking, cross country skiing and pond skating, if it gets cold enough," says Holland.
This is the second year Leadership 12 has been offered at Barrington High School. Students who are interested in taking Leadership 12 next year, are encouraged to speak to their teachers and complete an application to be accepted.